Cleaning & Maintaining
Your Kona Cabinets
Made using the highest quality materials, Kona cabinets are designed and built to withstand wear and tear. And with a bit of proper cleaning and routine maintenance, our cabinets are sure to add life to the heart of your home for years to come.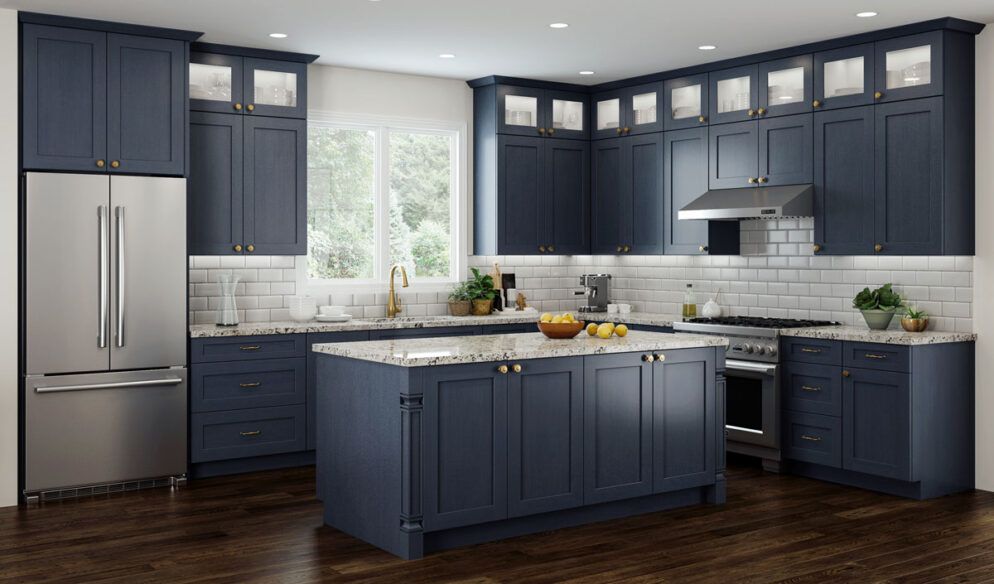 How to Properly Clean Your Wood or Painted Cabinets
Your cabinets are made using wood materials that are as unique as you are. Everything from the wood grain to the color variances is special to your home. It's important to learn how to properly clean your cabinets and understand what to avoid to ensure they stay as beautiful as when they were installed.
Do I Need to Clean My Cabinets After Installation?
There's no need to worry about wiping down or polishing your cabinets after installation. We'll ensure your cabinets are spotless and shining, so you can simply relax and enjoy them.
Feel the need to add extra shine before you unveil the finished remodel to friends and family? A wipe down with a damp cloth will do. Then, make sure you dry the cabinets with another soft cloth to prevent excess moisture.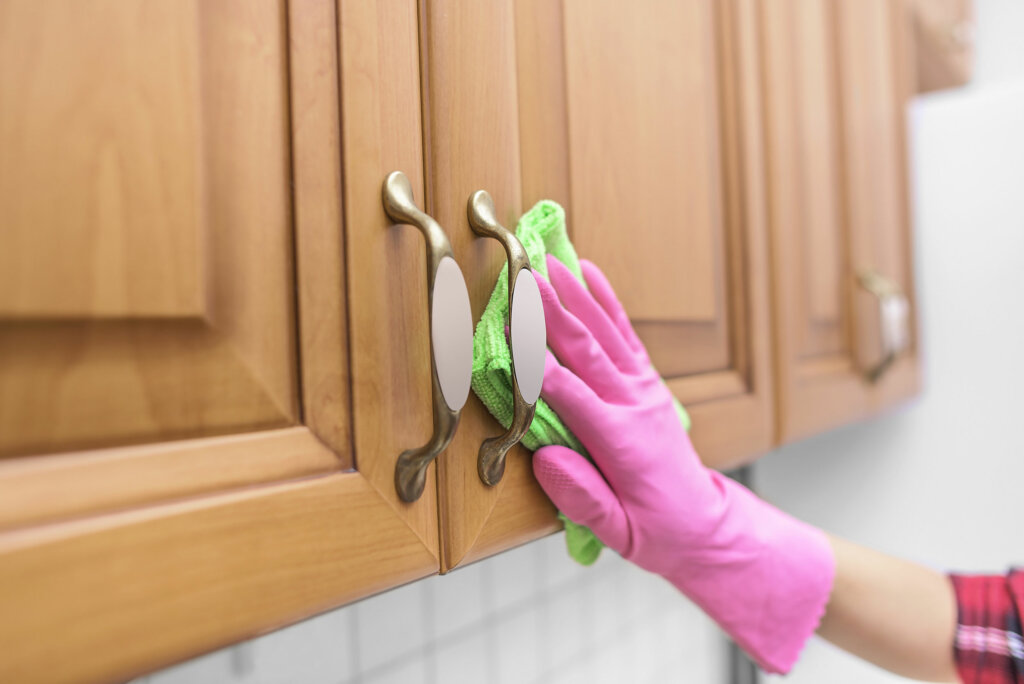 1. Remove Build-Up Often
Over time, grease and general grime can build up on your cabinets, dulling their shine. It's also possible that build-up will harm the cabinet material, decreasing their lifespan. We recommend removing build-up at least bi-weekly with warm water and a gentle cloth.
You may need to wipe down your cabinets more often, depending on how often you cook or the amount of traffic in your kitchen. As you wipe your wood cabinets, make sure you move in the direction of the gain. This helps protect the grain from scratches and scuffs.
Some grime tries to stick around. If you're unable to remove it with just water, try a little bit of mild dish soap. If that doesn't work, baking soda mixed with water to create a paste should do the trick. You can also use a gentle sponge for a bit more scrubbing power for difficult spots.
Cleaning Products to Avoid
We recommend doing your best to stick with water, baking soda or mild dish soap. Many other cleaning products on the market can harm your cabinets. If you feel you need something different, please avoid strong detergents, bleach and cleaning products made using ammonia.
You'll also want to avoid scrubbing your cabinets with abrasive items such as steel wool and wire brushes. These items will for sure scratch your cabinets, leaving behind a textured and rough surface.
2. Polish Your Wood Cabinets
You should also periodically polish your wood cabinets using a mild wood polish. Some polishes are great for general cleaning and polishing such as oil soaps. Make sure to use a soft cloth-like microfiber to clean and buff. And remember, go with the wood grain!
Cabinet Scratch & Nick Repair
No matter how careful you are around your cabinets or how well you clean them, things still happen. This is especially true if you have little hands helping you out in the kitchen. Luckily, our cabinets are easy to repair when scratches and nicks threaten your surfaces.
How to Repair Scratches in Your Cabinets
Scratches and nicks can happen for several reasons. For example, cabinets in high traffic areas can get scratched from belt buckles or purse straps. It's also easy for rogue kitchen utensils to leave behind nicks as you cook.
Don't worry—there are a couple of solid ways to fix scratches in your cabinets to restore them to their original look:
Use a walnut: We're not joking. If the scratch is light, the cabinet is wood and you can't feel it when you run your fingers over it, rub a walnut gently over the scratch. The oil from the nut will darken the scratch and reduce its visibility.
Use a cabinet repair tool: Cabinet repair tools often come with a stick of color that looks similar to a crayon. These tools are used to fill and color the scratch and they're perfect for deeper nicks. All you have to do is rub the stick over the scratch.
It's also important to note that wax build-up from polishing can also mimic scratching. Before you use any of the tips above, make sure to wipe the scratch with a soft cloth. If it's wax, this should remove it.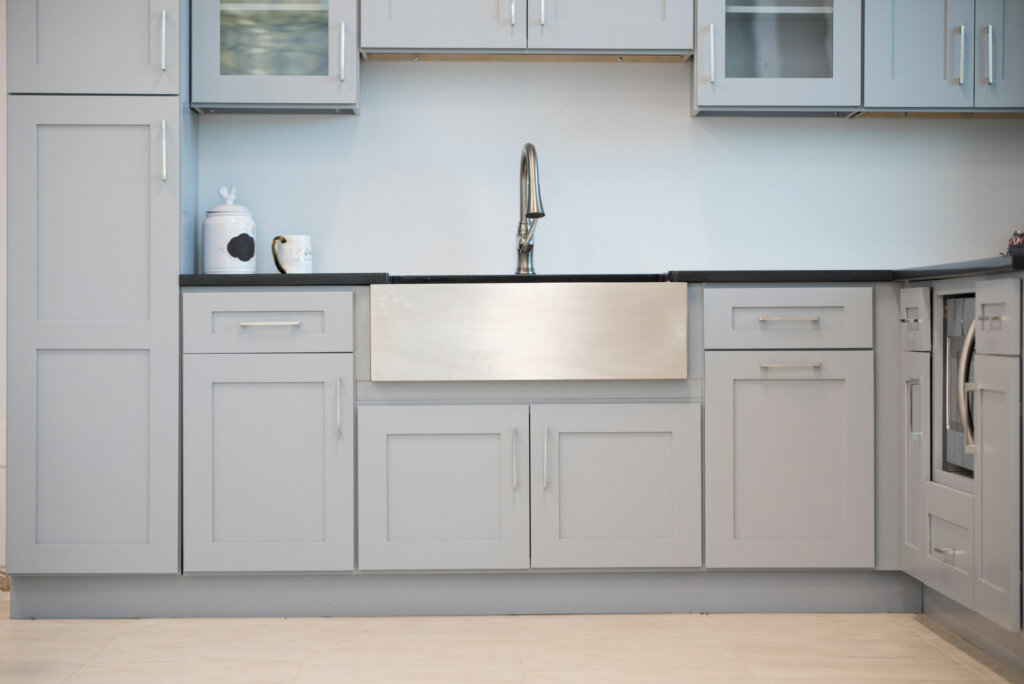 Your Kona Cabinets & the Elements
Did you know that moisture, temperature, and humidity can all affect the look and integrity of your cabinets? To ensure your cabinets last for years to come, these three elements must be controlled. First, let's dive into the effects of the elements on your cabinets.
How the Elements Can Affect Your Cabinets & How to Prevent Damage
Temperature
Temperature, especially when it changes rapidly, can cause your cabinets to expand or contract and shrink. For example, in the summer, your cabinets will expand due to the increased heat inside and outside your home. And in those harsh Minnesota winters, they'll contract from the cold.
Extreme changes in temperature throughout your home can also lead to cracking and splitting if your cabinets are made entirely out of wood. This can also cause the other cabinet materials such as drawers to warp or bow, resulting in drawers that won't open or shut properly.
How to Prevent It
It's important to note that the expansion and contraction of wood are normal and not a cause for the replacement of your cabinets. In fact, by controlling the temperature in your home, you may be able to reverse warping, bending or bowing.
Make sure to use your air conditioner in the summer and your heat in the winter to avoid sudden increases or drops in temperature. Cabinets enjoy a temp between 70-75 degrees the best. Don't we all? 🙂
Moisture
Excessive moisture can quickly damage your cabinets, especially if there's a lot of moisture in a short amount of time. For example, water leaks from a nearby dishwasher or sink can leave a lasting impact on your cabinets, causing them to crack, split, bow and break.
Long-term moisture is also something you should avoid. For example, steam from your stovetop or appliances such as crock pots can affect your cabinets over time. Even simple splashing from your sink or dishwasher can impact the integrity of your cabinets and their finish.
How to Prevent It
Clean up spills or splashed water immediately, so you can prevent moisture from soaking into the wood of your cabinets. You should also avoid placing dish towels or other wet materials on the handles of your cabinets.
If you need to use your crockpot or another appliance, don't do so directly under your cabinets. And, if you suspect a dishwasher or sink leak, call a plumber for help ASAP.
Humidity
Humidity is a double-edged sword. Too high or too low and the cabinets will expand or contract quickly, leaving behind the potential for cracked joints and wood. And where humidity levels are uneven, wood may warp or bow.
Humidity can also affect other materials such as particleboard and plywood, which are common materials used in drawers and other cabinet features. For example, particleboard will expand rapidly if exposed to high levels of moisture. This rapid expansion may lead to cracks, bows or warps that result in cabinets not working as they should.
How to Prevent It
Use a dehumidifier in the summer months to reduce the humidity in your home. And in those Minnesota winters, use a humidifier to prevent the air from becoming too dry. The best humidity level for cabinets is between 30 and 50%.
Excessive Sunlight
Too much sun can result in cabinets fading over time. It can also cause excessive heat build-up, which may cause your cabinets to expand too quickly.
How to Prevent It
Make sure any windows that face your cabinets or those located nearby are covered with curtains or blinds.
Cabinet Care Tips & Tricks From Our Experts
Protecting your cabinets simply means putting in some elbow grease every so often and keeping a watchful eye on your kitchen or bath environment. But, to take your cabinet care to the next level, here are some insider tips from our experts:
Test any cleaning products you decide to use in an inconspicuous spot on your cabinets before you get to work. Just trust us on this one.
Do your kids have crayons lying around somewhere? These can also work in a pinch when you want to repair a small cabinet scratch. Just be sure to use a color close to the color of your cabinets.
If you're able, allow us to place your cabinets directly in the kitchen or bath when they're delivered. This will help them become acclimated to your environment before installation.
Don't forget the inside of your cabinets! We recommend cleaning out your cabinets and wiping the insides with soap and water every few months. This helps protect against dirt, dust and grime build-up that can often go unnoticed.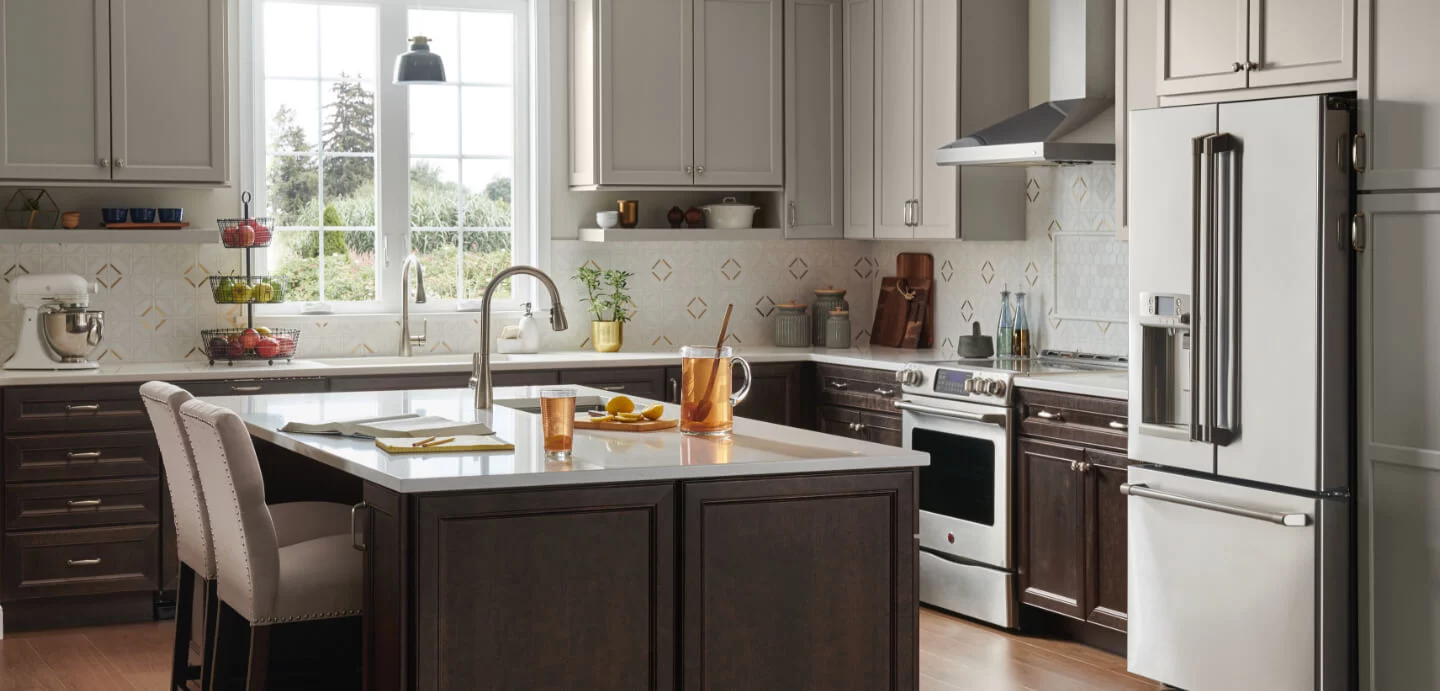 Have Questions About Your Cabinets? Call Kona!
Do you have questions or concerns about your cabinets? Worried about a scratch or want to know more about proper maintenance? We're here to help. Call our team at 612-504-5662 or send us a message.